Hot rolled / Plates & Coils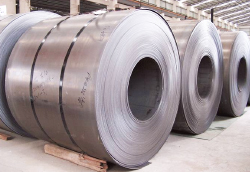 Matkawala Steels supply a wide range of high-strength hot rolled products in sizes ranging from 1.2 mm to 65 mm for various applications. We are equipped with an advanced system for producing products as per the required dimensions and sizes.
Features
Width up to 2,000mm.
Product conforming to national and international standards
Dimensional tolerances customised to specific requirements
Available in coil / slit / sheet form
Dimensions
Thickness: 1.2 – 65mm.
Width: 1000 – 2,000mm.
Length : Upto 12 Mtr or Cut To Length .
Grades
Drawing quality steel: D / DD / EDD.
Cold rolling grades: IF (Interstitial Free) and High Strength IF Steels.
Medium carbon / high carbon steels.
High strength steels: JIS G 3113 SAPH310/370/400/440, JIS G 3134 SPFH-540/590, EN 10149-2 S550MC/S650MC, DP590.
Line pipe – API X42 to X-80 grades (Sour and Non Sour Applications).
Boilers and pressure vessels grades.
Ship building grades
Corrosion resistant steel
Supply conditions
Mill edge / trimmed
HR black / Hot Rolled and Pickled Oiled (HRPO)
Applications
General engineering.
Automotive: Wheel rims / disc, Chassis, Long member / cross members, Axles.
Boilers and pressure vessels.
Shipbuilding.
Railways.
Oil and gas pipelines.
Defence
Structural construction
Benefits
Excellent cold forming and deep drawing properties.
Import substitute for high value, high quality steel.
Excellent weldability.
Consistency in quality.
Accreditation from BIS, RDSO etc.