Galvanized Steel & Corrugated (G.C) Sheets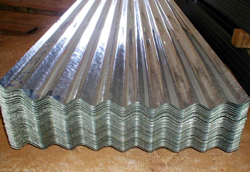 Matkawala Steels supplies Galvanized Corrugated (GC) sheets to specific CLIENT requirements. It not only specialises in thin guage corrugated sheets with thicknesses as low as 0.12mm suitable for low cost roofing for residential homes and industrial sheds but also roofing for heavy industrial housing with thickness upto 1.2 mm.
All weather-proof
The Galvanized substrate is available in a wide range of zinc coating to provide supreme corrosion protection in various environmental conditions. GC products are subjected to strict quality control tests to assure performance in all climatic conditions.
Convenient to install and maintenance free
GC and trapezoidal sheets are easy and quick to install for roofing and cladding applications and totally maintenance free.
Length (mm) : 1500 – 3660 (mm)
Galvanised Coils/Sheets
Matkawala Steels Supply Galvanized Colis/Sheets with excellent properties such as  corrosion resistance, good service life, excellent surface finish, and close dimensional tolerances.
Features
Uniform zinc coating in the range of 120-600 GSM
Spangles: Zero / regular / minimised / suppressed  
With and without tension leveling
Passivation: Chromated (Hexavalent / Trivalent) 
Oiling: 100-1,000 GSM 
Winding: Controlled / staggered (+/- 5 to +/-15mm)
Coil id: 508 / 610 mm
Dimensions
Thickness: 0.15-3.2 mm
Width: 200-1,350 mm
Length: Up to 2,500 mm or As per Client Specification (Cut To Length)
Grades & Standards
CQ, DQ, DDQ, EDDQ, HSLA
ASTM  A653, SS33/37/40/50/60/80, EN 10327, JIS
Crash guards / hand rails
Consistency in quality
Sizes
Galvanized Steel Sheet In Coils
| | | | | |
| --- | --- | --- | --- | --- |
| Thickness (mm) | Width (mm) | Zinc Coating GSM | Coil Weight | Grade |
| 0.14 – 0.25 | Max 1000 | 180 Max | 8 MT MAX. | Full Hard Equivalent or SGCH |
| 0.18 – 0.30 | Max 1000 | 180 Max | 10 MT Max | SGCC, CSB, DX51D |
| 0.30 – 1.50 | Max 1350 | 275 Max | 12 MT Max | SGCC, SGCH, SSGR80 Equiv. |
Galvanized Corrugated Steel Sheet
| | | | | | | |
| --- | --- | --- | --- | --- | --- | --- |
| Thickness (mm) | Width (Before Corrugation)(mm) | Width (After Corrugation)(mm) | Zinc Coating GSM | Length(mm) | Pkt Weight | Grade |
| 0.14 -0.60 | 762 -1000 | 665 -875 | 120 – 275 | 1500-3660 | 3.0mt Max | Full hard |
| 0.25 -0.63 | 762 -1000 | 665 -875 | 120 – 275 | 1500-4880 | 5.0mt Max | Full hard |
| 0.35 -0.63 | 762 -1350 | 665 -1220 | 275 Max | 1500-4880 | 5.0mt Max | Full hard |
| 0.65 -0.80 | 762 -1000 | 665 -875 | 275 Max | 1500-3660 | 5.0mt Max | Annealed |
Galvanized Corrugated Steel Sheet
| | | | | | |
| --- | --- | --- | --- | --- | --- |
| Thickness (mm) | Width | Length | Zinc Coating GSM | Coil weight | Grade |
| 0.14 -0.20mm | 762 -1000mm | 3000 mm (max) | 180 MAX | 3 MT (max) | Full hard |
| 0.20 – 0.30mm | 762 -1000mm | 3000 mm (max) | 180 Max | 3 MT (max) | Full hard/ Annealed |
| 0.30 – 1.50mm | 762 -1350mm | 3000 mm (max) | 275 Max | 3 MT (max) | Full hard/ Annealed |